Digital technologies and current trends of analytics are changing agriculture turning a farm's field operation more precise and result oriented. Digital-based agriculture services, raised as "precision agriculture" are helping to raise the monetary performance and hiking yield. But only 30% of acreage managed to utilize precision agriculture technologies (e.g. variable price of spraying) due to a steep cost of assimilating precision field data. To aid farmers, ameliorate profitability, and productivity we have combined technologies such as the (Internet of Things) IoT, with data analytics, cloud-based application development and industry knowledge to provide ultra-modern solutions for the agriculture industry.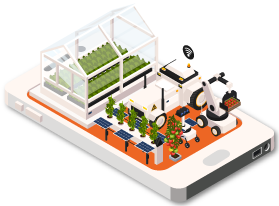 Some of the services

we provide for agriculture




Web & mobile
app migration

Unique & creative
application

Upgradation &
Integration

Learning
Management System

WE WILL HELP YOU TO ACHIEVE YOUR GOALS AND TO GROW YOUR BUSINESS.
Our innovation-driven, robust and highly scalable IT solutions helps transform businesses working
in the agriculture domain.