Travel & Hospitality Industry is one of the fastest growing industries. We give you an edge.
The travel experience today has become very convenient and enjoyable due to apps that fulfill their requirements and make things easier.
The increasing demand of high quality digital and device based experiences, competitive pricing has made an efficient and powerful app a necessity.
We deliver digital transformation and technology solutions for the 'resorts & vacations, hotels & lodging, car & rental, recreation & leisure, and travel management services to the clients all over the world. Only good experiences lead to a memorable holiday, business trip and seasonal vacations hence we focus on customer journey, mapping and experience. You can hire our travel & hospitality expert developers to make your next project.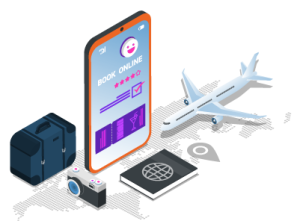 Our innovation-driven, robust and highly scalable IT solutions help to take your food business online.
WE WILL HELP YOU TO ACHIEVE YOUR GOALS AND TO GROW YOUR BUSINESS.
Some of our services

for travel & hospitality solutions



Hotel
Booking Applications

Legacy
Migration/ Porting

Product Development
and Re- Engineering

Web Applications
/Portals


Benefits Of

Travel & Hospitality
Explore our industry leading solutions for your unique travel and hospitality needs.